Sure Grip Spinner Knob
With Spin Master's innovative, clam shell design; one size fits all steering wheels. Unlike other spinner knobs on the market, the patented design will leave no permanent damage to your steering wheel.
Spin Master adds a quick-release function-remove and refit at the touch of a button! The only spinner knob to feature two free running balls racers, guaranteeing easy operation. Available in: Black, Grey, and Wood-Grain!
Push/Pull Hand Control
The Sure Grip Push/Pull hand control uses the same movement to apply the gas and brake as other Push/Pull controls; however the pivot point for the Sure Grip control is on the left-hand side of the wheel close to the handle, this allows for a shorter stroke and greater leverage. In addition to the pivot point, the handles position is at a slight angle, an angle that makes a big difference to the driver.
Benefits
Less strain on fingers and thumb
Flexible hand positions for lower fatigue and cramping while driving
The ability for both hands to keep contact with the steering wheel
Features
Superior pedal feel, with constant acceleration and no
Limited modifications to the vehicles dash
Easier braking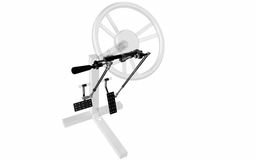 Push Right/Angle Hand Control
Unlike other Push Right/Angle controls, the Sure Grip Push Right/Angle's body doesn't pivot or move when the accelerator is applied. The pivot point for the Sure Grip control is on the left-hand side of the wheel, and only the handle pivots
Benefits
Increased leg room for getting in and out of the vehicle, as many installs allow brake rod to pass through the dash
Full acceleration without the control hitting the drivers lap
Greater two-handed contact with the steering wheel due to the shortened stroke of the handle
Features
Superior pedal feel, with constant acceleration and no
Lower fatigue while driving
Limited modifications to the vehicles dash